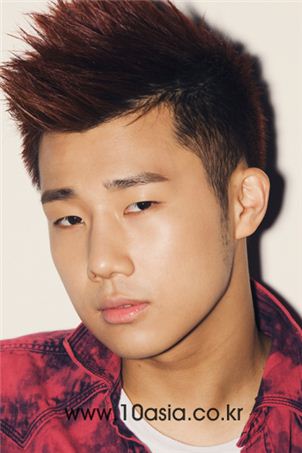 My name is Kim Sung-kyu. I am the leader of INFINITE.
I was born on April 28, 1989. I'm the only one in the group who was born in the 80s and I feel the age difference from the younger members of my group. It was surprising to hear that Sung-jong didn't know who Korean boy band H.O.T was. Everyone in my age group knows who they are!
I am the oldest in the group but I am the youngest at home. I have an older sister who is five years older than me. My sisters' friends compliments us whenever we are on TV, saying that we all look cute.
I was in the school band at Jeonju National University High School. The name of our band was 'Beat' and we mostly played hardcore music like Pia, Linkin Park or Limp Bizkit. I enjoyed Elle Garden and Muse but I mostly sang or rapped.
I came to Seoul and stayed in the Hongik University area with the determination to 'do rock music.' But my friend who came with me went back home and I was the only one left here. I've become more interested in black music, pop and dance and now I'm having fun with learning how to dance.
My biggest reason for signing with this company is because of senior singers Nell. They were my idols from when I first started to do music. I have all their studio albums as well their underground records.
I was really embarrassed when we first began shooting for Mnet's "INFINITE! You are the One." I thought we were going to be doing a cool program but the whole show is real, starting from the scene where I call out to our manager when Ji-ae comes into our dorm while we are eating. I think we showed the viewers everything from our bare faces to taking off our clothes in the bathroom (Sung-yeol: They showed our chests!) and crying.
That's why we weren't under the pressure to get into shape because our bodies were revealed even before we made our debut. We acknowledged the fact that we all have a normal builds. We sometimes may just think about working out. (laugh)
I still keep in touch with Ji-ae. She came to cheer us on during our first stage performance and showcase. She called to give us advice to "work hard because it's going to be tough" after seeing our first broadcast. It's as if she's our older sister. (laugh)
There were many things to ride when we were shooting the music video for "Come Back Again." I chose to ride in the limousine. Everyone thought I rode in it because I was the oldest but the director said it matched my image…(Sung-yeol: But it didn't match him that much. Hahaha.) Uhm, the director probably chose it, thinking it will suit me in the future.
Whenever I sing, the end of my eyebrows droop downwards and I put on an expression that seems as if I'm saying I've been wrongly accused. Even my mom told me after watching me on TV that I should fix it. Honestly, I've tried practicing singing thinking about my eyebrows but it's not easy to fix it because I was born with it. (Dong-woo:But he does sing with a more mellow tone when he puts on the expression as if he's been wrongly accused.) I have more people who like my eyebrows now and I think maybe Woo-hyun will try to imitate my expression for one of his skills. He's probably practicing somewhere where I can't see him.