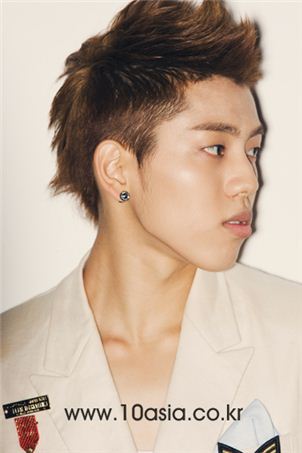 My name is Jang Dong-woo.
I was born on November 22, 1990. I have two older sisters with one being six years older than me and the other three years older. People tell me that I probably grew up receiving their love but I was beaten up a lot! (Sung-kyu: That's what he says now and it seems like his sisters love him and take good care of him whenever I hear him talking to them on the phone.)
My parents said they will allow me to sing and dance after I graduate from high school. But I learned to sing and dance properly from when I was a freshman in high school because I wanted to go on stage so badly. My sister used to be a dancer and I learned from her. I mostly dance in the R&B style and during my audition…I think I barely passed. (laugh)
Woo-hyun and Sung-jong seemed much more manly back when I first met them, with their long hair and all. (Woo-hyun: We kept him in check because we joined the agency first. Haha.) But we became close after thirty minutes of spending time together to eat. The power of sharing a meal is great.
I got the nickname "Kenya Dong-woo" from Mnet's "INFINITE! You are the One." At school, my nickname was 'Woo-dong.'A lot of people ask me if I am from Kenya. Ha…it's all a misunderstanding. I am a native Korean, I'm from the Gyeonggi Province of South Korea.
My pants ripped while I was dancing on MBC's "Infinite Girls." I didn't know it at first but I felt a coolness somewhere and then noticed that something white was showing! I held onto my pants and finished my dance saying it was a new dance that I came up with. They edited that part out and only showed me dancing.
It took two hours to shoot the rain scene for the music video "Come Back Again." We were singing live and the water kept going into my mouth and I had such a hard time because I couldn't open my eyes.
At the dorms, Woo-hyun, L and Sung-yeol share a room and Sung-kyu, Sung-jong and Hoya share a room. I am roommates with our manager. It's because I love our manager. (laugh)
I decided to keep a daily journal a week before we made our debut. A journal is something you don't show others but I showed Sung-kyu my journal because he persuaded me by saying, "I have to know what you guys are thinking about because I am the oldest and the leader. It will help me to be a better team leader." (Sung-kyu: I expected him to have written something philosophical because he practices writing the raps and lyrics. All he wrote was what time he ate lunch and what today's schedule was like.)
I didn't show anyone my journal after that, and I carry it around in my bag just in case the other members might see. If I knew something like this would happen, I would have bought one with a lock! (L: How about a bag like James Bond's?)