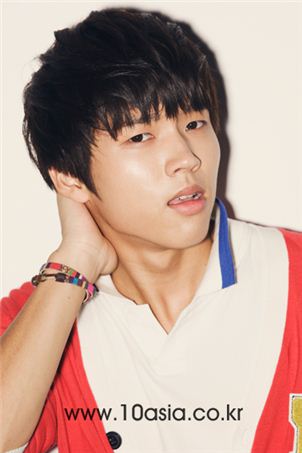 My name is Nam Woo-hyun.
I was born on February 8, 1991. I have an older brother who is two years older than me.
My dream was to become a soccer player.However, I gave up on that dream because I didn't have the stamina. My favorite player Lee Dong-gook took part in the 2010 FIFA World Cup and I felt good because it was as if he was playing in my place. (Everyone: Hahahahah! What do mean in your place!! That's so wrong!)
I actually don't look like an idol. Of course, although it was my close friends who told me that. (laugh) But I still auditioned for our company thinking that I should work harder on singing since my looks aren't that great. I liked how our company has other musicians like Epik High and Nell.
I passed the auditions with Stevie Wonder's "Lately." I think the president accepted me because of my confidence. (laugh)
My role model is Stevie Wonder. I began singing while learning his songs and it's moving to see the passion and joy he has for music even at his age. I am really upset that I won't be able to see his concert in Korea.
We have two bunk beds in the dorm but Sung-yeol, L and I sleep on the floor. Even though we don't fit the image of being people who sleep on the floor. (Sung-jong: You fit that image though. Sung-kyu: Hey! So you're saying we suit the floor?) Haha. It's based on my criteria.
My intestines are a bit weak so I suffer from indigestion if I eat oily food but I stuff myself with meat because I love it and then afterwards it comes out through the lower… I'm sorry.
I am probably the best cook among my members. I haven't had the chance to cook for them because we always eat at a restaurant near the dorms. I cooked some egg rolls for Ji-ae during an episode of Mnet's "INFINITE! You are the One" but she it tasted bad. She only said it to make the show more fun when it actually tasted good! (Sung-kyu: It was really good because we all tried some since Woo-hyun made a lot.)
There was a high-class look and an eccentric feeling about L at first but when he starts to speak in his regional dialect he seems more human-like. It makes me think that someone as good-looking as him has faults too…
Dong-woo is known as the 'gummed angel' amongst us. It is because he has a beautiful smile but you don't want to see his gums. (laugh)
Lately, I can't approach Sung-jong because it seems like he's going through puberty. He slammed the door a couple of times when I tried to ask him to do something. So I just thought I should do it myself. (Sung-jong: Oh, no! The wind blew the door shut.) He threw in towels really hard when I asked him to put them in the washing machine.(Sung-jong: It's because I was dusting them off before I put them in. Why are you coming up with these weird incidents!)
I am trying to polish up many skills. I can perfectly imitate senior singers Ha Dong-kyun and MC Mong but people ask me why I keep doing the same thing. I tried something else but they weren't impressed.
We recently shot the music video "She's Back" near the ocean wearing sailor clothes. Of course I thought the marine clothing looked best on me but the fans said I looked like a CEO playing golf since I re-dyed my hair.
The more you see me, the more attractive you'll find me. You may not notice at first, but you have to keep looking. I'm telling you there is a something very attractive about me if you look very, very closely!