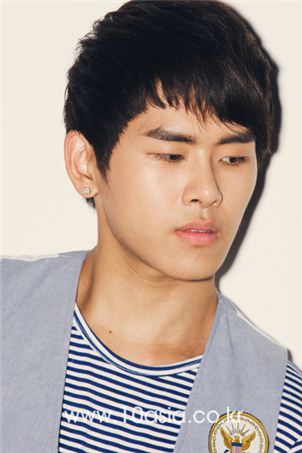 My name is Hoya. My real name is Lee Ho-won. As a child my nickname was Hoya and it was great because I debuted with it. When I meet someone for the first time I feel like I become close with them when they call me "Hoya." (Woo-hyun: He didn't seem to like it when I called him Ho-won but smiled all of a sudden when I called him Hoya! Sung-kyu: It was to the point where the other trainees knew to call him Hoya.)
I was born on March 28, 1991. My hometown is Busan. I have an older brother who is two years older than me and a little brother who is five years younger.
That is why it was awkward when I met Ji-ae for the first time on Mnet's "INFINITE! You are the One." I didn't know if she should be my little sister, girlfriend or a whole other being…
Unlike the other members I tried to take on the 'bad boy' image and didn't take care of Ji-ae. But all those scenes were edited out and the program showed me taking care of the younger sister. (laugh)
I was a taekwondo athlete up till middle school. I received my third-degree black belt in taekwondo but being in a tournament is a completely different level. I got hit a lot during the tournament and after that I didn't want to continue taekwondo. Oh, I seriously got hit a lot.
I dropped out of high school during my freshmen year to learn how to sing and dance. I was about to give up after being rejected from the auditions when the teacher from the music academy told me there was an open audition for this company.
We learned the choreography for "Come Back Again" by watching a video of ourselves dancing. We stopped the video every second and started over if someone makes a mistake.
I never heard a compliment from the choreographer up until the day we made our debut. He told me that our debut performance was 'hair-raisingly good.' I was extremely happy because it was the first compliment he gave us.
I became naturally tanned when we shot the music video for "She's Back." The other members didn't like that they got a tan but I was happy about it.
My favorite artists are Usher, Chris Brown and Omarion. I was sad that I wasn't able to see Usher during his Korean concert.
Myung-soo, I mean L has a tough and cold expression but when you get to know him he is delicate and warm. He is always very affectionate. Sung-yeol may seem like the studious and smart type but he's really aloof! He has a lot of weak points, like whenever he talks, he squeaks and he easily cries! (laugh)
Dong-woo and I learned how to rap from Epik High's Mithra Jin and Gonzo. We had dinner at Mithra Jin's parents' house and it was really good! We had meat, uhm, he said he eats meat for all three meals…
We eat about 20 portions of meat. Our manager is always cooking the meat for us so he doesn't get to eat it that much. He is like an angel. (L: Should we go eat meat again?)