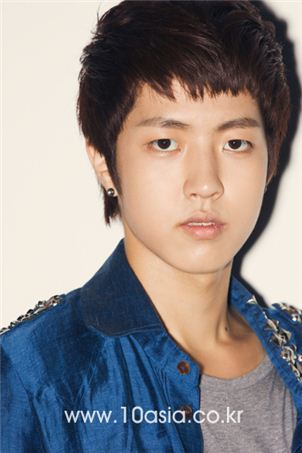 My name is Lee Sung-yeol.
I was born on August 27, 1991.
Of the members of my group, I am the tallest. I was 180 centimeters when I was last measured and I think I've grown a bit since then.
We almost didn't debut under the name INFINITE but rather under a name like Supersonic, I-pop, or Blackberry. We had actually agonized over the name that the CEO of our company had been thinking of naming us by when at the last second, he decided we would be INFINITE and we shouted out in joy.
I had actually been preparing to become an actorbut I came across the chance to sing on stage and it was more attractive than I thought so I became a singer. I would like to try playing a role which is strong yet funny like those that actors Yoo Hae-jin or Lim Chang-jung play.
I recently took part in a pre-recording for MBC TV series' World Changing Quiz" (Woo-hyun: Oh, Sung-jong wasn't the only one who went on it?) I think you'll only see Sung-jong on it. I've been speaking less and less ever since. It's not like there's a scene that I hope gets cut out but still… I heard though that they shot a lot of scenes of me laughing.
When we shot the music video for "Come Back," all I did was run all day because Sung-kyu got to ride in a limousine and L an expensive segway but I had to teleport.
On Mnet's "INFINITE! You are the One," I said I've dated someone before but that was just because um… hasn't everyone dated someone? From an objective standpoint, I think Woo-hyun or L would be popular with the women.
I've cried at a wedding of a relative whose face I had never seen before. I actually cried while looking at the white background for the wedding and my mom asked what was wrong with me. I think I could've been mistaken for liking the person who is getting married. I'm a bit sentimental like that. (Hoya: I can't believe you actually said that about yourself…)
But I have a hard time trying to cry on purpose. I don't think I'd be able to cry for a music video shoot. (L: We could go to a wedding!)
At home, we do the laundry in teams. Sung-kyu, L, Sung-jong and Hoya are on one team while me, Woo-hyun and Dong-woo are on another team. We take turns doing the laundry every week. The largest difficulty to doing the laundry in the summer is that it doesn't dry well. We're actually not that clean but we should maintain a minimum cleanliness so… Hahaha. (Sung-kyu: The member who is the cleanest of us is… nobody. Woo-hyun: Our manager is probably the cleanest.)
If we could have our home renovated I wish we could have about two, no, four bathrooms. Then what about our rooms? Hmm… we could reduce the size of our living room?