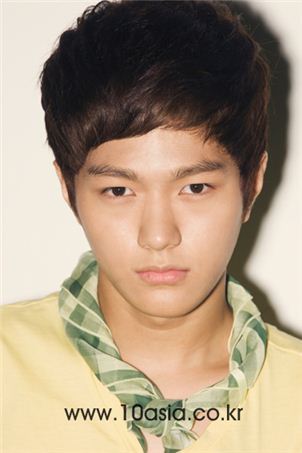 My name is L. My real name is Kim Myung-soo.
I was born on March 13, 1992. I'm from Seoul and I have a younger brother who is two years younger than me.
I came up with my name L. Some people have asked whether I don't use my real name because of comedian Park Myung-so but that's not true, it just came to be like that. Oh, it's not L from "Deathnote" either. (Woo-hyun: But he was similar to L when he was a trainee with his long hair and all.)
I was interested in acting or modeling but I ended up auditioning as a singer too after watching a lot of musicals.
I'm sometimes told that I look like actor Kim Bum.(Sung-kyu: We actually go to the same hair salon so we've seen him in person and well, um …. he was extremely cool.) Um… well that's why they say. Even I think that he has a very small face and is tall too. (Sung-kyu: That's right. You have to face the truth. What isn't, isn't.)
The time when opinions clash within our team is when we're trying to decide what to eat. It's hard for us to agree on a single menu since there's so many of us so we choose when our manager gives us about four choices. Nobody in particular is really stubborn though so we easily give away to the other person.
Everybody likes food like pork, chicken and pizza. (Sung-yeol: The CEO of our company will sometimes come to us and buy us meat though, saying that we don't look healthy. That's when he looks really cool. Sung-kyu: And when he tells us we have to eat what we want to even if we'll look bloated on screen the next morning if we eat the night before!)
It's been a year since I've lived with the members of our group. (Sung-kyu: I'm so sick of them!) There are times that I want to escape. Have I really done it? No. (Sung-kyu: Our manager is right next to us right now so we can't tell you right now.)
We bought an alarm clock which is very loud but we haven't been hearing it from a certain point on because we're so tired. That's why we take turns to wake each other up and the person who can't wake up or doesn't wake up others pays a fine. Everybody has been waking up really well and even scolding each other to wake up ever since. Hahaha.
My role model is TVXQ. I've liked them since "Hug" and some people think it's strange that I like them but I like their style of music. I like cheerful songs like "Hug" but also intense songs like "Rising Sun" or "Purple Line."