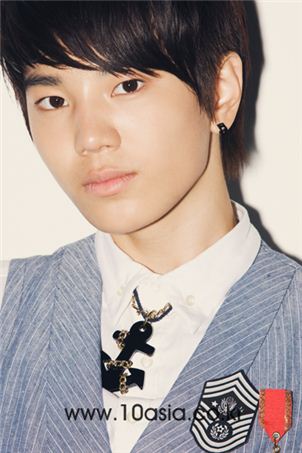 My name is Lee Sung-jong.
I was born on September 3, 1993. I'm a junior at Jeonju Fine Arts High School and I have a brother who is three years younger than I am.
My hometown is Gwangju in the Jeolla Province. I don't usually speak in the Jeolla dialect but I do occasionally when I'm talking to my parents or friends or when I get worked up.
Living with six older guys is extremely suffocating.(All burst out into laughter.) No, I'm kidding. I'm really happy. Seriously! They all treat me very well. (L: Don't try to resolve the damage you've already done. Woo-hyun: Why are you looking at me?) Since I'm the youngest… Ahem, oh man, my voice is cracking up. Anyway, since I'm the youngest, everyone teaches me a lot of things and takes good care of me. That's why I'm happy being the youngest sometimes. (Woo-hyun: You sound like you're someone talking in a commercial! Sung-kyu: Sung-jong really is like the youngest — he's very cute. I'm worried because I think Woo-hyun is starting to influence him…)
Leader Sung-kyu is really good at taking care of us.Whenever we're done with one of our schedules, when we're done somewhere and have to go to another place, he tells us what to do next. I think he was the nicest to Ji-ae too on Mnet's "INFINITE! You are the One."
Simply put, L is like a pineapple. A pineapple is hard and rough on the outside yet sweet on the inside and he's exactly like that. (Woo-hyun: You prepared that remark too, didn't you?) Yes.
Not long ago, I said on the radio that I want to eat sushi and then the very next day, our fans sent us sushi. Thank you!
I saw a desert fox for the first time while shooting the music video for "Come Back." I thought it would be really big but it was actually very small and so cute that I wanted to keep it as my pet. We had to be very careful for the shoot though because it's very sensitive to sound.
I was very sad and disappointed when King of Pop Michael Jackson passed away. He's my favorite artist and I liked everything about him, from his singing method to dancing to his manners on stage. I wanted to be like him. I like his songs "Beat it" and "Ben" the most.