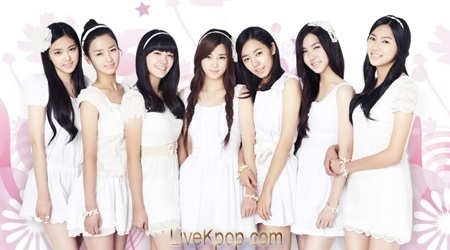 A Pink (Korean: 에이핑크) is a seven-member South Korean girl group under A Cube Entertainment. They debuted on April 19, 2011 with the EP Seven Springs of A Pink, and rose steadily in popularity.
History[edit] Pre-DebutThe documentary A Pink News (aired on TrendE) first introduced A Pink to the public. The show chronicled the debut process of the members of A Pink. The pilot episode was aired on March 11, 2011. Each episode will feature a different celebrity guest as its anchorman. Among the stars who presented the show will also be included: G.NA, Mario, MBLAQ's Seung Ho & G.O, B2ST, 4Minute, 2AM's Jinwoon, Secret's Sunhwa & Hyosung.
Before their debut the girls have been nicknamed 'Elf Idols', and the image has helped them in garnering contracts, like with jewelry brand "Cottiny", and beverage brand "Ceylon Tea".
2011: DebutOn April 13th, A Pink released their music video teaser for their debut album, Seven Springs of A Pink. Done under the concept of 'spring ladies', the seven members expressed the different charms of the spring season and emphasized their innocent beauty.[1] A Pink released EP "Seven Springs of A Pink" and the Music Video for "I Don't Know" on 19 April 2011.[2] The MV also stars B2ST's Gi Kwang.
A Pink made their first live debut stage through M.net's M! Countdown on April 21, 2011, to further promote the album.
They had their first official fanmeet where it was revealed that their pseudo-official fanclub name is "Pink Panda".
Discography
EPsYear Album details Peak
positions Sales
KOR
2011 Seven Springs of A Pink
Released: April 19, 2011
Label: Cube Entertainment
Format: CD, digital download
9
"—" denotes releases that did not chart or were not released in that region.
SinglesYear Title Peak chart positions Album
KOR
Gaon Soompi
2011 "I Don't Know" 14 9 Seven Springs of A Pink
[edit] Music VideosYear Music video Length
2011 "I Don't Know" 3:53
"Wishlist" 3:35
"It Girl" 3:29