AKB48 Members, Team B
AKB48′s new Team B debuts at the theater today on the 21st of May. Team B was most affected by the recent reshuffle, with only 3 original members remaining after the change (Watanabe Mayu, Kashiwagi Yuki and Hirajima Natsumi). Here's an introduction to the members of the brand new Team B.
The old Team B was the last of AKB48′s three teams formed and has been known previously for being the overall youngest and most energetic team. With many of the team's focal members leaving for the other groups, it is still unknown if the new Team B will preserve this image.

33. Watanabe Mayu
Coming in at #4 on last year's popularity election, Watanabe Mayu is Team B's most popular member. A title she has held on to firmly for the past 3 years.
Watanabe Mayu was first introduced as one of the lead girls in AKB48′s 6th single Bingo!, three months after the formation of Team B. Since then, she has been featured prominently in all singles.
At only 16, Mayuyu (as fans call her) is actually one of AKB48′s youngest members. Fortunately for Watanabe, she isn't depicted in a childish manner like the other junior members. Instead, she is known for her ever cheery personality.
Historically, Watanabe was famous for her knack for getting injured. She broke her leg only one month after joining AKB48. Watanabe returned after 2 months, only to injure her right arm this time. Instead of questioning her motor skills, fans found Mayu's frailty endearing. Watanabe's photographs skyrocketed in price, out valuing even Maeda Atsuko's.
Watanabe is part of the Production Ogi company. She is known for being friends with the other Production Ogi girls in AKB48 like Hirajima Natsumi and Minegishi Minami. Mayu is particularly close to former teammate Oota Aika and even cried during Oota's transfer to Team A. She shares a blog with Oota here
34. Kashiwagi Yuki
Kashiwagi Yuki first applied for the auditions to find AKB48′s Team A and was shortlisted for an interview. However, she did not make the long trip from Kagoshima to Tokyo for the interview (Kagoshima is at the southern end of Japan's southernmost island).
During the formation of Team K, Yuki applied again but failed the auditions. She then participated in Morning Musume's 8th generation auditions and was one of the final 25 girls chosen. Mitsui Aika was chosen to join Morning Musume instead though. Determined not to give up, Kashiwagi Yuki joined the auditions for AKB48′s final team and passed. She debut in April 2007 as Team B's captain.
As captain, Yuki often shares center stage with Watanabe Mayu. She is one of Team B's strongest singers but is incredibly stiff when it comes to dancing.
During last year's elections, Kashiwagi ranked #9 on the popularity charts. During last April though, Yuki finally found herself a spot at Watanabe Entertainment, the same agency that handles otaku queen Nakagawa Shoko. With the additional coverage she received in the past year, we can foresee Kashiwagi placing at a much better position in this year's elections.
Ever since joining Watanabe Entertainment, Yuki has been appearing rather frequently in gravure shots for magazines. Last September, she released her first photobook to resounding success, coming in at #1 on the annual TBS Rankings.
You can follow Yuki's daily adventures at here blog here.

35. Kasai Tomomi
Former Team K's Kasai Tomomi is staple member featured in AKB48′s singles. As the group's 10th most popular member, Kasai is surely one of the most valuable additions to Team B this year.
Kasai stands out among other members for her sultry eyes. A mention of her droopy eyes as her charm point is actually part of her introduction at the start of each concert. As one of the lead singers in Team K, Kasai played and continues to play an active role in concerts. She sings with one of the highest pitched squeaks. Like many of the girls in AKB48, Kasai is able to play a musical instruments. She plays the Taiko. Kasai is also known for being a self confessed train otaku.
Kasai Tomomi is AKB's other famous Tomomi. Both Kasai and Itano Tomomis signed to the impressive Hori Pro agency back in 2007. They are also part of the company's futsal team, Xanadu loves NHC. Xanadu is known for being one of the top celebrity futsal teams. Xanadu players wear a modified jersey of Japan's leading baseball team, Tokyo's Yomiuri Giants as the team is lead by former star pitcher Miyamoto Kazutomo.
Kasai wears the number 48 jersey in Xanadu. Here's a link to her Xanadu blog.

36. Oku Manami
The creepy moving doll is known as Oku Manami. At only 15 years of age, the half Japanese, half Italian Oku is AKB48′s youngest member. More surprisingly is that Oku actually joined AKB48 during the formation of Team K back in 2006 when she was only 11.
Despite a 10 year age gap, Oku is known for being closest with AKB48′s oldest members Shinoda Mariko and Noro Kayo (who is now SDN48′s captain). She seems to get along well with former teammate Ono Erena as well, who was the member closest to her age after Masuyama Kayano left. Though she is friendly in person, Oku has been known to be rather reserved on stage. This results in her staring rather creepily at the audience. Only recently is she slowly getting more comfortable with performances.
Oku shares a blog with some of the other office48 girls here.

37. Ishida Haruka
Ono Erena lookalike Ishida Haruka, is one of the training members promoted into AKB48 this year. Ishida joined the 5th generation research team in 2008 and has been training for over two years. As such she is one of the the slowest girls ever to be promoted into AKB48. Ishida is known for being an idol and anime otaku. She also practiced judo in elementary and middle school. Ishida shares the same birthday as ex-teammate Tanabe Miku.

38. Kitahara Rie
Kitahara is one of AKB48′s members that seem to be rising in popularity quickly. Like Ishida, she joined as a 5th generation research student but was promoted to Team A in 2008 after only 4 months of training. During last year's popularity elections, she placed at #13 and has been featured in all following singles.
Kitahara Rie is close friends with Team A's Takajo Aki and the two often be seen fooling in candid videos from the official AKB48 site. Kitahara enjoys playing the piano, skiing and the English language. She has acquired impressive qualifications for all three hobbies.
Kitahara has a no nonsense attitude when it comes to food and is known for being rather unpleasant whenever she is hungry. She once got mad when her lunch was given to another research student by mistake. She sometimes eats other people's leftover food.
Despite her popularity, Rie was one of the girls that had yet to find a talent agency. This month though she signed up with Ohta Pro, the company responsible for promoting AKB's most popular girls, Maeda Atsuko and Oshima Yuko. Her personal blog can be found here.
39. Kobayashi Kana
Kobayashi Kana was among the official blog's list of shortlisted candidates for the creation Team A but didn't pass the final auditions. Instead, she debuted with the formation of Team K in 2006. She stayed with the team until this year's restructure where she was moved to Team B instead.
Kobayashi is one of AKB48′s less popular members. She initially appeared in two singles after Team K's formation but had been forgotten about ever since. She didn't even come up as one of the 30 members ranked last year. Like other less popular Team K members, Kobayashi is part of the office48 company. The girls at office48 have a shared blog here.
The good news though is that Kobayashi's career seems to be finally taking off outside of AKB48. She stars in the movie "Hai! Moshi Moshi Ootsuka Yakkyoukudeska". An art film that was already screen selectively last year but is slated for a Summer public released this year
40. Komori Mika
Komori Mika is famous for being the first research student ever to take part in an AKB48 single (Namida Surprise!). She disappeared from sight ever since but is now being moved to Team B as part of the shuffle. Only time will tell if her career will take off.

41. Sato Amina
Sato Amina first started her career as a dancer at Dream Pro back in 2000. She was a huge AKB48 fan before joining the group and a staple part of the audience at the theater. In 2008 however, Amina joined the auditions for AKB SEED and became one of the 18 girls chosen to be a 4th generation training student. After 8 months of training, she was promoted into her favorite team as a fan, Team A!
Amina stands as a beacon of hope to those dreaming of joining AKB48 themselves. Thanks to the support of her fellow fans, Amina rose in rank quickly after joining the group. In only 6 months, she became AKB48′s 8th most popular member.
Unfortunately, Amina had to leave her beloved Team A during this year's reshuffle.
Despite her popularity, Amina is not a featured member in singles (much to the frustration of her fans). This is largely due to the fact that she was not signed to any agency. Last month she finally found a sponsor in Atelier Duncan, a small agency that handles stage plays. Still, the chances of Amina getting a spot in singles is slim unless she ranks even higher this year.
You can follow Amina on her Ameba blog here.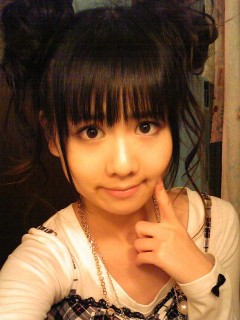 42. Sato Sumire
Like Yuki, Sato Sumire took part in the 8th generation Morning Musume auditions in 2006. She even made it as far as the finals before losing to Mitsui Aika. Instead, Sumire joined as one of the 7th generation AKB SEEDs in December 2008. After a year of training she is now part of AKB48′s new Team B.
Last December December, Sato Sumire joined Itano and Kasai in Hori Pro. With this change, she will most likely be pushed as one of the lead girls in no time.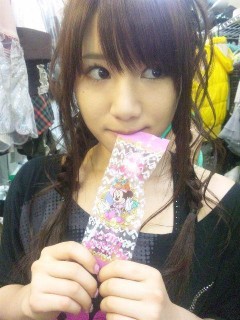 43. Suzuki Mariya
Suzuki Mariya is another 7th generation SEED brought into AKB48 during the shuffle. She started trying out for AKB48 since the group's 4th generation auditions but was only selected to join the training after 3 tries. She was one of the oldest girls among the research students.
Suzuki was initially supposed to join the new Team A this year. However, the management decided to put her in Team B instead to maintain the same number of members in each team. She will debut with the rest of the new Team B on the 21st of May.

44. Chikano Rina
Chikano Rina is a 5th generation student that joined the old Team K last March. Like her former training teammate Ishida Haruka, Chikano took rather long to get promoted (15 months). She was one of the last remaining research students at the time after all the other members had either quit or been promoted.
Chikano belongs to the Itoh Company Group, a production company focusing on young idols. She signed up with the company 3 months before her shift, so it can be presumed that she owes her inclusion into AKB48 to the agency.
The company hosts Chikano's blog at two identical locations here and here.
45. Hirajima Natsumi
One of the original founding members of AKB48, Hirajima left Team A in 2006 to assist the formation of the new Team B together with the graduated Urano Kazumi and Watanabe Shiho. The three senior girls supported the generally younger Team B. Like Urano, Hirajima Natsumi has consistently been one of the focal members of Team B, leading many of the team's stage songs.
Despite all her efforts, Hirajima has been outshined by many of the younger girls, she came in at only #26 on last year's charts. However, like many of the old Team B's popular members she is signed to Production Ogi. Her personal blog is only available to fanclub members. However, the Production Ogi girls' shared blog can be found here.

46. Miyazaki Miho
5th generation trainee Miyazaki Miho first joined AKB48′s Team A in July 2008 after 7 months of training. The young Miho was Team A's first "cute" member in a long while and the equivalent of Team K's Ono Erena or Team B's Oota Aika. Miyazaki's popularity boomed when it became apparent that she was one of the group's stronger singers after the leads.
During the first member selections in September 2008, Miyazaki obtained a spot in the subsequent singles after having been part of the Team A for only 3 months.
As expected, after signing a contract with Hori Pro in February last year, Miyazaki has been receiving much more publicity. She ranked #18 on the popularity charts last June, ensuring her continual position as a lead member. With the publicity she is getting recently, it is likely that Miyazaki will reach further heights this year.
Miyazaki Miho is #30 on the Xanadu loves NHC futsal team. Her blog can be found here.

47. Masuda Yuka
As part of the office48 group of girls, Masuda Yuka is one of the less publicized founding members of the old Team K. She is notably absent from Aitakatta, which featured all the other members at the time. She did appear in the group's 3 subsequent singles but has seen little coverage ever since. After ranking #25 on the popularity charts last year however, Masuda has started to play an active role in B-sides.
The Osaka born Masuda stands out in particular though for being the only girl in the group that speaks in Kansai-ben. Masuda Yuka is one of the under appreciated member's in AKB48, despite of her strong vocal power. She is one of the few member's who have released a solo single outside of the group. Her new single Stargazer came out last month. It's being used as the opening theme for the anime Ikkitousen. The single reached #29 on the Oricon charts.
Masuda shares her blog with the five other office48 girls here.

48. Sato Natsuki
The final girl on the list is the new Team B's oldest member and one of AKB48′s most amusing members, Sato Natsuki. Natsuki first debut with AKB48′s Team K. She is most memorable for her silly introduction, "1 + 2 = Nacchi".
Historically, she is well known for her comedic moments with close friend, Noro Kayo. The two even took part (and lost) together in the 2007 and 2008 M-1 Grand Prix, the largest comedy competition in Japan. Sadly, the only time Natsuki and Kayo appeared prominently in AKB48 was at the start of the PV for Romance Irane. Though they didn't perform, the two can be seen crashing the set at the start of the video. Natsuki and Kayo bring a quirky but refreshing sense of humor to the group.
Natsuki has been studying at the prestigious Waseda University for the past two years. Waseda is one of top universities responsible for many of the country's prime ministers, scientists, Fortune 500 CEOs and politicians both local and overseas.
It's a mystery why Natsuki has been one of the group's least popular members. In fact, she didn't even rank during the elections last year. But in a group with so many other members, it certainly is a difficult task to stand out. For many girls like Natsuki, the lack of support from a decent agency means that they are often cast aside in favor of more valuable girls.
Fortunately, Natsuki transferred to Watanabe Pro early this month. The agency does a good job marketing Kashiwagi Yuki and Takajo Aki, so Natsuki fans can hope to see more of the idol soon. Her new blog can be found here.
http://supermerlion.com/akb48-members-team-b/